First I have to say thank you for all your lovely comments about my cupcake, they are truly appreciated! And since there were over 50 comments to my blog hop candy I have added some more flowers to the pack! :) I used random.org to choose a winner and the winner is:
Berit - Berits hobbykrok
Congratulations Berit, please e-mail me your address and I will get the stash to you :)
Make sure to check out the main blog for all the other winners of the DT candy and also the sponsored prizes!!
*********************************************
Now on this this weeks
CUPCAKE CRAFT CHALLENGE 54
This weeks we want to see some
shaped cards - anything but a square!
I gave a small box using Spellbinders to make the shapes and this is how it turned out:
Stamps: NorthStar - text from birthday set and wedding set.
Pattern Papers: K & Company

Embellishments: Half pearls, ribbon
Tools: QB, Spellbinders
Medium:
This weeks one lucky winner will 5 free digi downloads from
Ildi Co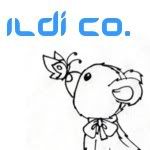 I cannot wait to see what you all come up with, I'm super excited to see if there will be any star shapped cards as I love that shape!! :)
Thanks for looking